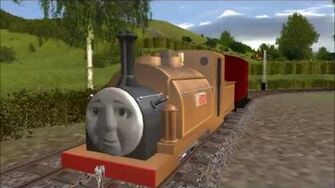 The Search for Smudger is the 2014, four-part Christmas Special. The first two parts were uploaded on December 19 and 24, 2015, while the third and fourth on January 10 and 16, 2016.
Plot
When a railway society comes to write a book about all of the engines they visit the Skarloey Railway, where they are especially fascinated with Duke's stories on the Mid-Sodor Railway. They look through all the records to see if there are any other surviving engines besides Duke, Peter Sam, Sir Handel and Bertram. While doing this, they come across a locomotive who's fate has not been accounted for. This engine's name is Smudger, and everyone is curious about what happened to him. Brakley and his team travel on the Arlesdale Railway to look for the remains of an engine, but to no avail. It's up to the narrow gauge engines to discover the truth behind Smudger and his disappearance.
Characters
Duncan
Rusty
Rex
Mike
Bert
Jock
Blister I & Blister II
Culdee
Duck
Stanley
Donald & Douglas
Toad
Lord Harry
Alaric
Eric
Henry
Gordon
Crimson (appears in flashback)
Albert (appears in flashback)
Godred (appears in flashback, does not speak)
Clive (appears in flashback, does not speak, not named)
Crovan (cameo)
 Ada, Jade, & Mabel (cameo)
 Lord Harry Barrane (mentioned)
 Duke of Sodor (mentioned)
 Jim (mentioned)
Cast
Duke: Andrew Homer
James: Andrew Homer
Smudger: EnterprisingEngine93
Bertam: EnterprisingEngine93
Mike: EnterprisingEngine93
Peter Sam: Carson08022000
Skarloey: SodorFan2K10
Rheneas: JakerBraker123
Rusty: Richardthebluehunsletengine
Toad: Donald9andDouglas10
Donald: Carson08022000
Duncan: Thomas1Edward2Henry3
Duck: Thomas1Edward2Henry3
Sir Handel: Thomas1Edward2Henry3
Crimson: DarthWill3
Trivia
The special continued from The Eyes, although it will not be the main focus of the story.
A teaser trailer was uploaded on November 4, 2014. It used audio from the TV episode Granpuff.
Originally, all 4 parts were to all be uploaded in December before Christmas. However, an extremley busy schedule necissitated a break between the 2nd and 3rd part. 
This is the first episode to feature SI3D's new 2012 models of Sir Handel and Rusty. In fact, the scenes were originally filmed with the old 2006 models but were refilmed with the new ones. However, like the other 2012 engines, the old 2006 models will used if other original gauge models are in the shot as well, like Duncan, Duke, or Bertram. 
MallardFan62 did not voice Duck in this special as it was very hard to contact him. Thomas1Edward2Henry3 now voices Duck. 
This special marked the first appearance of the Culdee Fell engines in the series. They previously appeared in a Trainz remake of the Railway Series book, Mountain Engines.
When Godred falls off the mountain in his flashback, the Wilhelm scream can be heard.
Ad blocker interference detected!
Wikia is a free-to-use site that makes money from advertising. We have a modified experience for viewers using ad blockers

Wikia is not accessible if you've made further modifications. Remove the custom ad blocker rule(s) and the page will load as expected.