Episode IX: The Runaway Railcar was uploaded on March 29, 2014. It is the ninth episode of the first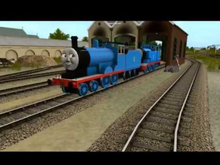 Characters
Edit
Thomas was originally going to have a larger role in the episode, but his voice actor RightonTracks10 retired from voice acting during scriptwrting. 
This episode will be re-done with SI3D's new model of Daisy in 2016.  
The reason Daisy's RWS model was used is because SI3D's model only had one face, and it would be difficut to add faces by photo-editing as most of the runaway is in video. 
The idea for the story was suggested by DarthWill3.
Railway Series references include Thomas in Trouble, Old Iron, and Daisy.
A reference to WTLNetwork's Youtube Poop, "Feeble?!" is made in this video at 9:06.
Ad blocker interference detected!
Wikia is a free-to-use site that makes money from advertising. We have a modified experience for viewers using ad blockers

Wikia is not accessible if you've made further modifications. Remove the custom ad blocker rule(s) and the page will load as expected.