Episode XVIII: The Devious Diesel was uploaded on May 19, 2016 and is the 2nd episode of the third season. It is the first of a two part story.
Plot
The story will be a flashback of when Diesel first arrived on Sodor, only showing how the Fat Controller found out about his lies and sent him away. Basically, it will be what happened while Duck was at Wellsworth.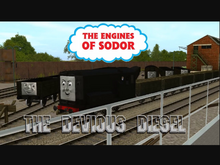 Characters
Diesel
Henry
Gordon
James
Sir Topham Hatt
Edward
Duck (does not speak)
Percy (cameo)
Thomas (cameo)
The following appear in present day
Boco
Stanley
Donald & Douglas
D199/Ted (cameo)
Trivia
Thomas1Edward2Henry3 was always disappointed that it never showed how Diesel got his comeuppance. He was originally going to use it for a NWR Origins episode about Diesel, but scrapped it as Diesel is not part of the NWR 11.
Events from Duck and the Diesel Engine are shown.
Originally, this was going to be one episode, but the script proved too long to be squeezed into 15 minutes.
This episode features a custom arrangement of Diesel's theme by Thomas1Edward2Henry3.
Because of the limited faces of Diesel's 2012 model, the 2006 model had to be used for some shots.
Ironically, both this and Double Muddle open with the rain sound effect.
Ad blocker interference detected!
Wikia is a free-to-use site that makes money from advertising. We have a modified experience for viewers using ad blockers

Wikia is not accessible if you've made further modifications. Remove the custom ad blocker rule(s) and the page will load as expected.