Terence is a friendly orange tractor who works by the Ffarquhar Branch, though is often lent to Sir Topham Hatt.
Terence was built between 1933 and 1938 and likely arrived (or was built on) Sodor the same year. In 1948, he met Thomas the tank engine while plowing in a field in Hackenbeck. Thomas remarked on how ugly his caterpillars were. However, that winter, Thomas got stuck in the snow and Terence pulled him. After that, the two formed a good friendship. They have had many adventures together, such as rescuing Mrs. Kyndley during a heavy snowfall in 1952 and rescuing Ulfstead after a blizzard in 1991.
In the floods of 2016, Terence was sunken in mud. Luckily, Thomas came to his rescue.
Trainz Models
Edit
SI3D's 2012 model of Terence is currently used. It was released in December 2014. This model is unique in that it has a whole library of facial expressions whilst Terence only had a smiling face in the TV series. Until the Search for Smudger, (#1TFM)'s model was used.
Terence is most likely a Caterpillar Model Seventy.
Terence is very kind and hard working. He does not let insults get to him. He has a friendly rivalry with Thomas, but not as big as Bertie's.
Voice Actor(s)
Edit
TV Appearances
Edit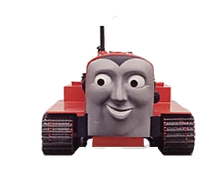 Terence first appeared in the first season episode Thomas, Terence, & the Snow and appeared in every season since until the eighth. His appearance in Season 4 was a cameo and he did not speak in Seasons 6 and 7. He then made a non-speaking role in the special The Great Discovery. He then returned in the Season 21 episode Terence Breaks the Ice with that episode being his first speaking role since the fifth season.