This page is about Sir Topham Hatt IV, the current Sir Topham Hatt in the series. You may be looking for Sir Topham Hatt I. For information about the other Hatts or The Fat Controller in general, go to the TTTE Wiki or Wikipedia.
Sir Richard Topham Hatt (born June 15, 1972) is the current CEO, or "Fat Controller" of the North Western Railway. He assumed the position on January 1, 2013, after his father, Stephen's retirement.
Biography
Edit
Richard was born at Hatt Manor, just outside of Wellsworth. He was one of three children, the other two being Charles (born 1974) and Emily (born 1977). Charles was not interested in becoming the controller; he went to the United States to work for Microsoft. Therefore, Richard was destined to become the controller. As a child he enjoyed the railway very much and traveled almost everywhere on it with his father. Richard's favorite railway on the Island was the Skarloey Railway as the scenery was spectacular. After graduating from university in 1992, he worked as a steam engine driver, mainly operating Henry or James. He married his university friend Thelma Silver in 1998 and had three children. At their wedding, his father Stephen was supposed to help make the cake but ended up eating it. Richard was the stationmaster of Crosby and then Wellsworth. During this time, he became obese, like his father. Stephen Hatt announced his retirement in late 2012 due to health problems at the age of 72. Richard was immediately voted in by the railway board and took his fathers place on January 1, 2013.
So far, Richard's control has been generally trouble free.
TV Appearances
Edit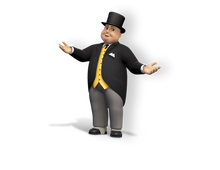 In the TV Series, Sir Topham Hatt is the same person throughout the show.
If one were to look at the show from the RWS point of view, Sir Topham Hatt IV's first appearance would be in the Seventeenth Season. He is voiced by Keith Wickham in the US and UK. He was previously voiced by Kerry Shale in the US but the US version of his voice was dropped in The Adventure Begins for unknown reasons.
Engines Acquired During Tenure
Edit
Porter (2013)
Gator (temporarily) (2014)
Timothy (2014)
Marion (2014)
Ted (re-acquired) (2014)
Ryan (2015)
Phillip (2015)
Sodor Garratt (2016)
Voice Actor
Edit