Rex is a small green engine who works on the Arlesdale Railway.
Rex was built around 1923 and worked on a railway in England until it closed in 1967. He was then sent to the new Arlesdale Railway on Sodor with Mike and Bert.
Trainz Models
Edit
Until An Unfortunate Coincidence for Jock, SI3D's 2006 model of Rex was used. Now, WildnorWester's model is used.
Rex is based off "River Esk" from the Ravenglass and Eskdale Railway. T1E2H3 got a glimpse of that locomotive in a shed when he visited in July 2013 (it was being repaired due to being in a shed fire).
Appearances
Edit
Voice Actors
Edit
TV Appearances
Edit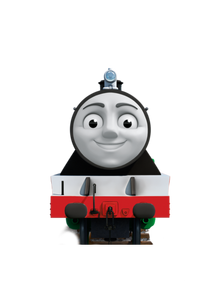 Mike, Rex, and Bert first appeared in the special Sodor's Legend of the Lost Treasure, being the first Railway Series characters introduced in the TV series since the fourth season 24 years prior. They then appeared in the twentieth and twenty-first seasons. He is voiced by Tom Stourton in the UK and US.