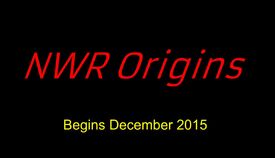 NWR Origins is a mini-series of nine episodes that portrays the NWR engines' backstories and their arrival to Sodor. It began airing on December 3, 2015 and finished on January 24, 2016. Another season will be released in 2019. These episodes celebrate the 70th anniversary of the RWS and the 100th anniversary of the NWR.
About
The nine episodes focuses on how engines from the NWR 11 arrived on Sodor or the events surrounding their arrival. Thomas and Edward's episodes take place in 1915, with the opening of the North Western Railway. Henry's episode takes place in 1922, and Gordon two episodes take place the following 3 years. The previously mentioned 3 episodes also deal with the conflict involving 98462 (Alfred) and 87546. James's episode takes place in 1945, and focuses on events from Thomas and the Breakdown Train and what happened afterward. Donald & Douglas's episode, taking place in 1959, focuses on their plan to smuggle Douglas along with Donald. Oliver's two episodes focuses on Oliver's life on the GWR, the decline of steam, and his escape from scrap.
T1E2H3 will likely do a second season, which will cover the origins of Percy, Toby, and Duck as well as other characters such as Bill, Ben, Mavis, and Boco. If made, it will air in June-September 2018.  
Episodes
Season 1 (2015 - 2016)
Season 2 (2019)
The second season of NWR Origins will be released in early 2019.
Characters
Cast
Trivia
This is not an actual remake of The Adventure Begins. In T1E2H3's universe as well as the Railway Series, the engines arrived in order of their numbers, with Thomas being the first in 1915.
A teaser trailer was released on September 25, and a full trailer with footage from the first two episodes was released on October 21. A second trailer, with actual dialogue, was released on November 12. The final trailer was released on November 30, and used music from the trailer for the movie Star Wars Episode VII: The Force Awakens.
T1E2H3's timeline of Sodor events differs from the general fan accepted timeline. The events of the Three Railway Engines takes place in 1924, while every subsequent book takes place the year before the publish date. (ex. Thomas the Tank Engine takes place in 1945).
There were no episodes originally dedicated to Percy, Toby, and Duck as it was already shown in the RWS and TV series how they arrived and T1E2H3 stated that their episodes would just be remakes of the TV episodes, which would be uninteresting. He had originally planned not to do James for the same reason.

However, they will be featured in Season 2.

Originally, there was going to be an episode dedicated to Diesel which would show what happened whilst Duck was at Wellsworth. However, it was cut because it would add another long story that would require work. The idea was then used in The Devious Diesel and Sent Packing.
This is the first time voice actors are used since The Search for Smudger.
Filming began on September 6, 2015.
Both Gordon and Oliver's stories are two-parted episodes.
The engines were portrayed in the following liveries: Thomas in his LB&SCR maroon, Edward in his Furness Railway maroon, Gordon in his LNER Green, James in his L&YR black, and Oliver in his BR dark green.