Mike is a tender engine from the Arlesdale Railway.
He is red with blue and gold lining. He works on the Arlesdale Railway with Bert, Rex, Jock, Frank, Sigrid of Arlesdale, and the Blister Twins. He is known to be a hot-head kind of an engine, almost like James, except he prefers trucks to coaches. He often gets into arguments with Rex and Frank. However, he can be a kind engine at times, always helping a friend in need.
Trainz Model
Edit
WildnorWester's model of Mike is used. Until An Unfortunate Coincidence for Jock, SI3D's modle was used.
Mike is based on River Mite from the Ravenglass and Eskdale Railway.
Appearances
Edit
Voice actor(s)
Edit
TV Appearances
Edit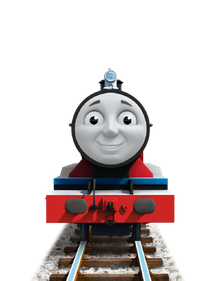 Mike, Rex, and Bert first appeared in the special Sodor's Legend of the Lost Treasure, being the first Railway Series characters introduced in the TV series since the fourth season 24 years prior. They then appeared in the twentieth and twenty-first seasons. Mike is voiced by Tim Whitnall.