Ivo Hugh is the number 7 on the Skarloey Railway.  
Ivo Hugh was built in 1996 and was named after the Cheif Engineer of the Maintenance crew on the Skarloey Railway.
Trainz Model
Edit
Crovan's Gate Works's model of Ivo Hugh was used until the fourth season. The model now used is WildnorWester's model, as the CGW model only has one face.
Ivo Hugh is based on Tom Rolt from the Talyllyn Railway.
Appearances
Edit
RWS Appearances
Edit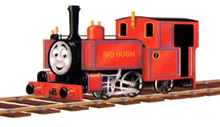 Ivo Hugh only appeared at the end of the Railway Series book New Little Engine and he did not speak.
Ivo Hugh was part of a wooden railway set that featured him and a zoo train with a hippo. This was later adopted into Episode 35 of The Engines of Sodor.
Ivo Hugh is similar to Bertram in that they both only appeared once and did not speak.
In the Thomas and Friends TV Series, Ivo Hugh was replaced by Freddie, who is absent in The Engines of Sodor due to lack of a good model.