Episode VII: Engine Unknown was uploaded on January 24, 2014 and is the seventh episode of the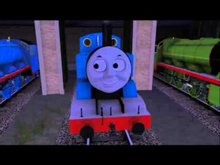 first season
.  
One evening, Diesel has derailed because of carelessness and BoCo comes to rescue him. However, while proceeding with the breakdown train, a mysterious engine rushes by them and no one knows who it is nor got a glimpse of it. Pip, Emma, and Henry also have experiences with this "Unknown Engine". Bertie tells Henry 
Characters
Edit
This episode marks the first appearance of KnapfordProductions as Bertie and Bear as well as Andrew Homer as Boco and Duke. 
Events from the Railway Series books "Very Old Engines" and "Henry the Green Engine" are referenced. 
Music from the movie The Lord of the Rings: The Fellowship of the Ring is used. 
Because this episode has a cliffhanger ending that ties into the next episode, this is the first episode not to have the traditional Thomas outro at the end.
This episode has the most cameos.  
As of September 2016, this is the most viewed episode of The Engines of Sodor with over 600,000 views.  
Ad blocker interference detected!
Wikia is a free-to-use site that makes money from advertising. We have a modified experience for viewers using ad blockers

Wikia is not accessible if you've made further modifications. Remove the custom ad blocker rule(s) and the page will load as expected.